Volunteers make our House a home
There are many ways to get involved at Hospitality House and make a difference for families in medical crisis. We are happy to be able to invite volunteer individuals and groups to the House to participate in meaningful activities, meet our guests, and see their impact.
Learn more about our available volunteer opportunities below.
For questions about volunteering, contact us at (704) 376-0060 ext. 204 or volunteer@hhocharlotte.org.
Please note Hospitality House of Charlotte does not offer court-ordered community service opportunities.

Meals That Heal
Enjoying a meal together allows patients and families to relax, connect with other guests, and feel the support of our community. Individuals and groups are invited to cook for our guests in the Hospitality House kitchen.
Description: You and/or your group may cook your favorite meals in HHOC's fully equipped kitchen. Volunteers are responsible for preparing, portioning, labeling, and placing meals in the House refrigerator for guests to enjoy at their convenience. We ask that volunteers clean and put away all used equipped prior to departure. You may also prepare meals offsite for delivery to HHOC following the meal guidelines below.

Group size: 1 to 10 people
Age restrictions: Volunteers of all ages are welcome, but individuals under the age of 18 must be accompanied be a responsible adult.
Approximate time: 2 Hours

Meal guidelines:
Please bring ALL

 

ingredients needed to prepare your meal.

Prepare for up to 

25 guests

.

Plan a menu that can be individually portioned — buffet service is not permitted. HHOC will provide portion containers, but you may bring your own or shop our wish lists

 to help keep these items stocked.

Please note that HHOC is an alcohol-free facility.
Garden and House Projects
Gather your group to help Hospitality House maintain the grounds and facility, making it a comfortable place for patients and their caregivers.
Description: Your group is invited to participate in an Indoor House Project or Outdoor Garden Project. Projects will vary by need and time of year, but may include gardening or deep cleaning guest rooms and common spaces. Our Programs Manager will contact you after booking to discuss the best fit for your group. We will provide all necessary equipment and instruction for each project, but you may ask us about donating any supplies needed if your budget allows.
Group size: 5 to 20 people (Outdoors); 5 to 10 people (Indoors)
Age restrictions: Volunteers of all ages are welcome for Outdoor Projects. Volunteers must be 14 years or older to participate in Indoor Projects. Individuals under the age of 18 must be accompanied be a responsible adult.
Approximate time: 2 Hours

Guidelines:
Dress comfortably and bring a water bottle.
For outdoor activities, bring sunscreen and bug spray.
HHOC may cancel outdoor volunteer activities in the event of inclement weather.
Offsite Volunteer Opportunities
Offsite volunteer opportunities give you the flexibility to make an impact on your own schedule. Use the volunteer calendar to schedule a time to deliver care bags, notes of encouragement, or baked goods.
Care Bags
Assemble care bags filled with thoughtful items for families to take with them on their way to and from hospital visits.
Notes of Encouragement
Send thoughtful cards, inspiring notes, or happy pictures to let our guests know someone is thinking of them.
Baked Goods
Bring your favorite individually wrapped  homemade treats to share with guests and brighten their day.
Other Ways to Get Involved
Donate supplies
Hold a supply drive or shop our wish lists to keep us well-stocked with items guests use daily.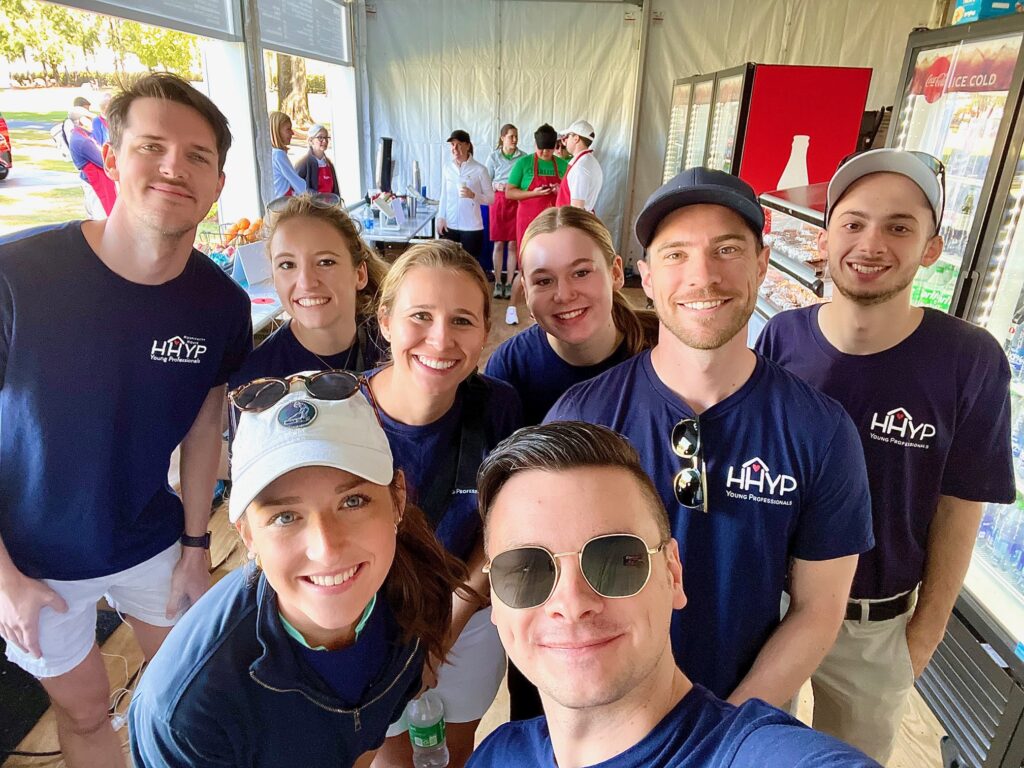 Join HHYP
Hospitality House Young Professionals support HHOC through volunteerism and fundraising.
Be a House Volunteer
House Volunteers have regularly scheduled roles in serving our guests as an extension of our team.